- CD & MP3 STORE -



Safe, Secure and Simple!

After paying securely via PAYPAL,
CD orders will be shipped to you and
MP3 orders will be available for download.
A receipt will be sent to your email address.

You DO NOT need a PayPal account.
We will NEVER sell or distribute
your email address.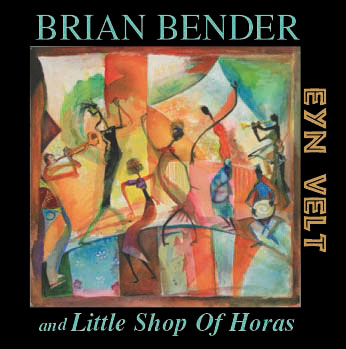 BRIAN BENDER & LITTLE SHOP OF HORAS
"Eyn Velt" (FTM-2008)
Original and traditional Jewish melodies blended with Latin, Caribbean, African and Middle Eastern rhythms.
With special guests:
Alicia Svigals (The Klezmatics, Mikveh) on fiddle, Frank London (The Klezmatics, Hasidic New Wave) on trumpet, Stuart Brotman (Brave Old World) on bass, Charles Neville (The Neville Brothers) on saxophone, Jose Gonzalez (Bando Criollo) on guitar and cuatro, Grant Smith (Klezmer Conservatory Band) on drums, and others.

Brian Bender plays melodica, trombone and keyboards on all tracks.

Buy Physical CD ($15 plus shipping)
(within United States)
Buy Physical CD ($15 plus shipping)
(outside of United States)
Buy Physical CD ($15 plus shipping)
(Canada & Mexico)
Download the entire album
(liner notes and cover art included)
Song Downloads
Track
Title
Download
1
Der Gazebo (Klezmer/Arabic) 6:51
2
El Judio (Klezmer/Latin Jazz) 8:06
3
Papirosn (Klezmer/Samba) 6:31
4
Avadim Hayenu (Hebrew Reggae) 5:06
5
Hebraish (Klezmer/Arabic) 7:01
6
Di Grine Kuzine (Klezmer/Swing)
7
Shloimele Malkele (Klezmer/African)
8
Long Island Groove (Chassidic/ Calypso) 4:33
9
Jahdonai (Hebrew Reggae) 4:26
10
Artik (Klezmer/Turkish) 6:37
11
Bobover Binghi (Chassidic/Nyabinghi) 4:40